Dr. Henry A. Knowles, Jr. was born in Marianna, FL and was raised in Chipley, FL. Dr. Knowles attended Chipola College and graduated from Troy University with a bachelors degree in Chemistry. Dr. Knowles received his dental degree from the University of Florida.
Dr. Knowles is married to his college sweetheart, Kelly, and has three handsome sons. Dr. Knowles enjoys outdoor activities such as golfing, fishing, camping, and gardening.

Dr. Knowles is a member of the American Dental Association (ADA), the Florida Dental Association (FDA) and the Northwest Florida Dental Association. Dr. Knowles is always attending continuing education courses to stay up-to-date on the newest and latest innovations in dentistry.
The office of Henry A. Knowles, Jr., DMD, PA is a general, family and cosmetic dentistry practice serving families in Marianna, FL. We provide routine dental examinations, cleanings, restorations, teeth whitening, dental implants, and other dental care to patients of all ages.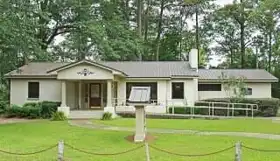 We are a locally owned and operated dental practice offering a comfortable, relaxing atmosphere and painless, gentle dental care that will remove the stigma of going to the dentist from even the most fearful of patients. We believe that dental health care should be not only effective and affordable but enjoyable and relaxing as well. Our staff and dental hygienists are very friendly and happy to answer any and all of your questions, both as you make your appointment with us and throughout your visit. We will always involve you in decision making processes and offer you the best dental care options for your needs.